Inspires you to create delicious and healthy meals
Improved construction + Bigger box
An improved connection between the transparent collector box and the metal top. The new construction makes it easier to assemble the collector as it fits from both ways.

The enlarged collector box contains 1100 ml (37.2 fl oz) instead of 700 ml (23.7 fl oz). A 57% increase in capacity!
Take me to the Photo Gallery >>>
3093 Alligator Chopper Stainless Steel
Professional Grade
Includes 3 interchangeable blades
3x3, 6x6 and 12x12 mm (1/8", 1/4" & 1/2")
Very safe to use and easy to clean up
PRICE: USD 129.99 (Free Shipping)
Popular replacement parts for professional users.
A collection box for Alligator 3093 Stainless Steel version. Made of Tritan plastic.
PRICE: $14.90 Free Shipping
2 pcs of 6x6mm (1/4") blade that fits Alligator 3093 Stainless Steel version.
PRICE: $49.00 Free Shipping
2 pcs of Cleaning Grids in ABS plastic that fits 3093 Alligator Stainless Steel version
PRICE: $7.49 Free Shipping
Blade set Collection 3x3, 6x6 and 12x12 mm (1/8, 1/4, 1/2") blade set.
PRICE: $49.99 Free Shipping
Alligator Chopper cuts sticks and cubes in one stroke and, the collector cleverly collects what you have chopped and helps block the fumes from reaching your eyes. With this manual tool and finger protection design, your fingers will be out of the reach from the sharp edges. The rubber feet create stability on the work surface.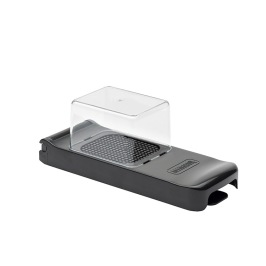 3079B (6mm)
Alligator Chopper
Standard size for Batonnet Julienne cut
Sharp Stainless Steel blades
The most used blade size
Onion, fine french fries, bell peppers etc.
PRICE: $38.99 (Free Shipping)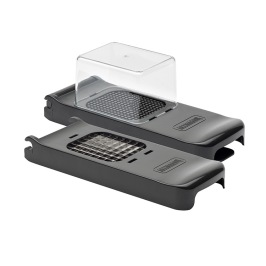 3008B (6x6 & 12 mm)
Alligator Chopper Set
This set combines the most used blade size with an attachment for courser cuts for french fries, chunkier pieces of produce for soups and pickling.
PRICE: $49.99 (Free Shipping)
3007B (3x3 & 6x6 mm)
Alligator Chopper Set
The Alligator Chopper is great for chopping onions, carrots or any other vegetable. Use the Mini Chopper for garlic, olives, onion or radish.
PRICE: $59.99 (Free Shipping)
Alligator is a Swedish invention, patented worldwide selling products and guaranteed quality. It's a must-have wonder in home and professional kitchens.
Invigorate your cooking expertise with this excellent food cutting tool. Achieve professional results without any particular skills or talent. Perfect for onions, garlic, fruit, vegetables, and more.
Inspires you to create more delicious and healthy meals
Spend less time preparing food & more time enjoying it
Safer than any kitchen knife
The Stainless Steel blades, created by South Korean masters and sharpened to perfection. Our blades are manufactured in world-class facilities, with top-of-the-line equipment, by craftsmen who've been honing their skills for decades. We are experts in the area of precision strip grinding, providing the sharpest, most consistent cutting edges. The quality of the blades is the key to Alligator's excellent reputation and success.
Always sharp! No more mushing foods with your old chopper. The sharp beveled Alligator blades cleanly cut through most types of food. They won't rust; won't retain flavors or smells
True to Swedish simplicity and elegance, the idea is to save you energy and time while preparing precise cuts of food. Alligator makes the laborious task of preparing precise cuts of fruit and vegetables quick, safe, and fun. You have perfectly diced onions, tomatoes, or potatoes in one stroke.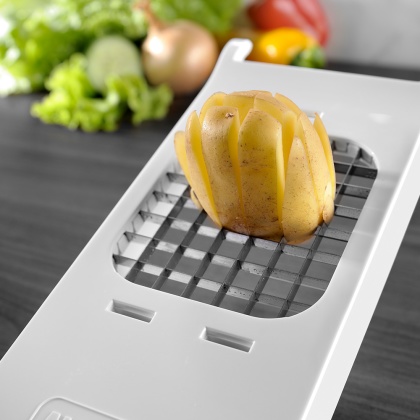 Alligator Original Choppers
Original replacement parts