12 times quicker than a knife and 100% safer!
Our role of is not to complicate the simple, but to simplify the complicated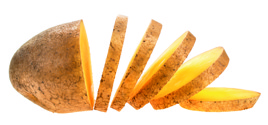 In a classic potato gratin, thinly sliced potatoes and onions soak up all the goodness of a milk and cream mixture that has been spiked with nutmeg. A sprinkling of grated Gruyere cheese on top becomes gooey in the oven. sing an Alligator Slicer creates perfect slices, which helps the gratin cook more evenly.
The Alligator Slicer creates perfect and uniform slices in seconds and is suitable for use on most fruit and vegetables, even tomatoes!

The patented concept consists of a series of blades that are graduated at set levels to guarantee a perfectly smooth and precise cut every time.

The Alligator Slicer cuts slices 5 mm wide and is perfect for slicing tomatoes and potatoes and most other fruits and vegetables. The secret of the unique concept of the Slicer lies in the stepped
arrangement of the knives.
The result is perfectly cut slices every time!

Alligator Slicer
Article number: 2020
EAN barcode: 7 350007 792211
Master Carton: 12 pcs.